Did you know that there are 52 bones in your foot?!?! If you are like me you probably take having happy feet for granted. Every so often though my feet remind me that running and dress shoes make them unhappy. When that happens though I break out some of the items below to return my feet to their happy and healthy selves!
Yoga Style Toe Separators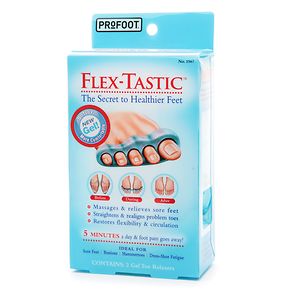 I have had these for a few years. I wouldn't say that I'm a regular user but I fall back on them when my feet are feeling a lot of fatigue. If I notice that my feet are cramping a lot then I'll put these on while watching tv or lounging around. I usually leave them on for 20-30 minutes at a time. Note that you should not wear these while walking or inside your shoes. These are something to use while you are seated and resting.
The soft, foam shape goes onto your foot and spreads your toes to help stretch out your feet and toes. Hold out your hand and spread your fingers out wide and that will give you an idea of what a yoga style toe separator does for your feet. I have longer second toes than my big toes which means that I sometimes have episodes with Morton's Neuroma. Spending a few minutes with the yoga separator on does wonders for my feet.
Balega Socks
It's no secret that I love Balega. I have been wearing Balega socks exclusively for running for the last 3-4 years. Balega is a South African sock brand and the name is Zulu and means "to move with speed." I generally wear the low cut no show style but recently starting wearing the wool blend sock. The weather has been colder for my long runs lately and this sock has kept my feet warm and comfortable during the 9-10 mile runs in 30 degree weather. The socks have great cushioning on the bottom of the foot and a thinner top layer that keeps the sock nice and breathable. I have yet to encounter a sock generated blister when wearing Balega's.
Sole Sport Flips
I love Flip Flops but only if they are good flip flops. Normal flip flops are flat and offer very little stability in them. I started wearing Sole flip flops when Rush Running opened 5 years ago. I was surprised at the price when I purchased my first pair...I won't lie that at $60 they are pricey for a flip flop. But I was sold on the product features...a custom orthotic foot bed that molds to fit the shape of your foot. They are heaven for my feet! I've got them in black, brown, and gold and wish winters were warmer in Arkansas so that I could wear them year round. Don't get me wrong, I definitely wear them around the house year round but don't wear them in public from October - March due to the colder temps.
What products do you use and like to help keep your feet happy? If you check out the Sole web site you might be able to score a pair on sale. (certain colors are currently on sale for as low as $48!) Your feet won't be disappointed!
Disclosure: All of these products were purchased by me and any opinions expressed are mine based on my personal experiences with the products.