As athletes we sometimes forget that there is more to training than simply running or swimming in practice to prepare for a race. The things that we do in our everyday life matter just as much such as staying hydrated, eating a balanced diet, and getting enough sleep. Disclosure: The following post is about recent purchases that I have made. I have not been compensated for this post. All opinions are my own based on my own purchase of these items with my own money.
A while ago I learned of a performance bedding product called Sheex through advertisements in several triathlon magazines. Mirinda Carfrae is a sponsored Sheex athlete and one of my favorite pros to watch. I shared my recap of Rinny's Twitter Party for Sheex in
this post from November 2011
. Her connection to the product peaked my interest and made me look into it. The concept is simple - it is a sheet set that is inspired by the performance fabrics used in athletic clothes to offer temperature regulation and ventilation to improve sleep quality. I was very interested but then I saw the price tag for the sheet sets. I'm choosy about how I spend my money and the high price tag of these sheets threw me for a loop.
Fast forward to a few months, and I was shopping at Walmart when I saw an endcap fixture of
Breathe Performance Sheets
. They had a fabric sample and I felt the sheets and knew I had to buy some. They were about
1/3rd the price of the Sheex brand
and offered many of the same features.
1) Temperature Control - more effective than regular sheets at regulating body temperature.
2) Moisture Wicking - it's just like performance fabric we wear!
3) Breathability - breathes 50% better than cotton sheets.
4) Precision Fit - the fitted sheet really stays put.
5) Ultra Softness - soft and smooth to the touch.
6) Durability - resists fading, shrinking, and wrinkling.
Sheex and Breathe have partnered with the Sleep Foundation to offer some tips for athletes on having a sleep fitness plan. Check the list and see how well you are doing at being a performance sleeper!
Sleep Fitness Plan Tips:
Exercise Daily
Set a sleep schedule
Make time for sleep
Wind down before bedtime
Get exposure to morning sun
Make your bedroom a sanctuary
Keep your bedroom cool, dark, and quiet
We need good quality sleep in order for our bodies to repair and rebuild and I have noticed a huge improvement in my sleep since starting to use the Breathe sheets. I fall asleep quickly and sleep soundly throughout the night. The sheets are the softest sheets I have ever slept on and every night when I climb into bed it feels heavenly. The only unique thing to manage with these sheets is the care process. Since these are a performance fabric, you need to make sure that you do not use any fabric softeners with them. I simply remind myself to remove the Downy bar from the dryer before drying them and then I'm good to go.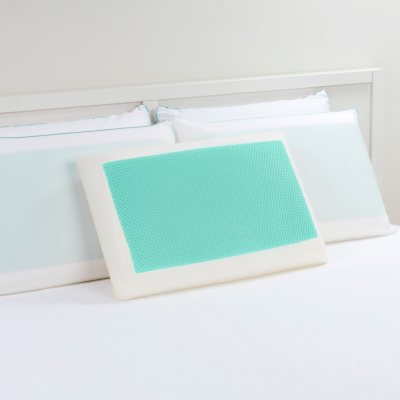 In addition to adding new sheets to the bed I have also changed out my pillow. I picked up a new pillow at Sam's Club like this one
here
that is a memory foam pillow with a layer of cooling gel on it. The gel layer keeps you cool and is supposed to improve your sleep as well. I can definitely feel a temperature difference when I lay down on this pillow. It feels great and has become my favorite pillow of the many that I have on the bed. I have been using memory foam pillows for a while but this one just feels so much better.
My sleep plan helps me complete my training since it helps me perform better both physically and mentally. When I am well rested, I react and respond to things better which means I'm less likely to skip workouts or fall victim to overeating sugary sweets to handle stress. For less than $100, I've been able to upgrade my bedroom and improve my sleep quality. If you have a few extra dollars to invest in your sleep, I would check for these products in your area.